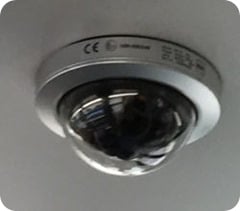 Smart wireless home security cameras are the latest thing in connected home devices. Not only are they better than they have ever been, but they're cheaper too. However, there is word or caution. If your home Wi-Fi and internet connection are not up to speed, your new security system could become defunct before you even unpack it. Before you invest in wireless technology, ask these two important questions to help with the decision making:
Is your internet good (fast) enough to support wireless cameras
What else do you need to control wirelessly (be specific)
Table of Contents
Be Smart when Smartifying Your Home
The latest trend for protecting loved ones and safeguarding valuables is to smartify the home. The concept is a good one and there's lots of innovation going on to support this fledgling industry. Nevertheless, smart homes need lots of power and resources, and this is an area so many people overlook. In theory, the idea of controlling your home from the palm of your hand is novel, but is it doable, that's the big question.
Whether it's one device or a collection of devices, you need to make sure your internet is up to the task. Home security in particular is a serious concern. You certainly don't want your wireless cameras to let you down all because of a weak internet connection or an overloaded network.
Is Your Internet Fast Enough?
You should never invest in wireless technology until you can answer this question. The speed of your wireless communication is a simple concept. It is the transfer of data (or power) between two or multiple points that have no physical connection via an electrical conductor.
The three things to check for with your internet include:
Good reliability (stability)
Adequate upload speed
Adequate download speed
Only when you can tick all three boxes should you move forward. Now you can consider an IP (internet protocol) Camera Surveillance System, or IP camera. Note too that the more devices you have (cameras), the slower your internet will become. The easiest way to test your internet is to use websites that let you check your speeds direct from the browser.[1] [2]
Reading the Test Results
As you run tests on your internet connection you may see that you don't get the speeds your Internet Service Provider (ISP) advertised. This is typical and it happens to us all. Don't worry about that too much. Just focus on whether your internet speeds are good enough to support an IP Camera Surveillance System (see below). There are many factors that can affect internet connection speeds. For example, there could be a problem with your actual equipment, or perhaps the issue is at the ISP end. If you have more than one computer, run tests on them both. If one is okay but the other is slow, you can at least rule out any issues with the ISP.
If your connection is slow, but you still prefer wireless security cameras over hard wired options, you may have to get a professional in to fix it for you. Either that, or have them advise you on how to remedy your internet. If you're tech savvy, there are certain diagnostic checks you can run yourself in an attempt to resolve speed issues.[3]
How Fast Does the Internet Connection Have to Be?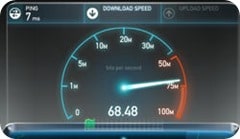 There are a number of factors to consider when checking the speed of your internet to the wireless home security system. If in doubt, contact the retailer or manufacture for guidance.
The things you need to consider the most include:
The recording resolution
The compression / codec (JPEG, MPEG-4, H.264)
The number of cameras used
Frame rate per second (FPS)
I personally wouldn't use an IP camera if my internet speed was below 2.5Mbps. My rule of thumb is 2.5Mbps per camera. For example, if I had 4 cameras, then I would want a minimum speed of 10Mbps and if I had 18 cameras, I would want 35Mbps download speed.
Top tip: If you opt for a multiple camera setup, it's a good idea to add each camera one at a time. By doing this you get immediate feedback on the actual bandwidth usage. You can then adjust each of the camera's settings as a way to optimize the network as you put it together.
About Bandwidth
In simple terms, bandwidth is the amount of data or information the internet connection can send and receive at any given time. Your bandwidth needs will be unique to your wireless setup. More cameras and higher resolution will use more bandwidth. You can look at bandwidth as the fuel that powers your IP camera setup.[5]
Here are the factors that will determine your bandwidth and storage calculations:
Continuous recording or event-based
The recording hours in any given day
Scenery: Image complexity
Data storage time
Data storage options
Note also that outdoor IP cameras generally require more bandwidth than indoor systems. The reason for this is that they monitor larger areas, and also the scene constantly changes. Sometimes the outdoor light will fall low, and night scenes may need up to five times more bandwidth than other times of the day. The well-lit, more constant lighting from indoors has fewer spikes. This means inside, in general, has lower bandwidth demands than outside.
Wi-Fi Dead Spots and Weak Zones
Another thing you will want to check for around your home is potential Wi-Fi dead spots. This is easy to check with a regular smartphone or other portable wireless device. The first thing to do is connect the device to the wireless network. Then all you have to do is walk around the property while paying close attention to your Wi-Fi signal. If the indicator drops to zero, that's a dead spot, or zone. If it falls somewhere just above zero, then it's a weak zone.
That sums up our piece on Wi-Fi, internet speeds and IP camera surveillance systems. If you have anything to add, please leave your comments below.
Resources
---